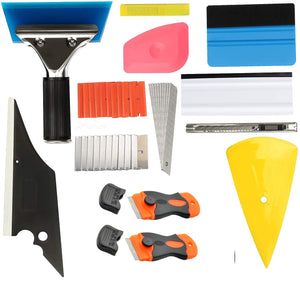 AE QUALITY FILM
AE-993 - 38pc Window Tint Kit
Regular price
$19.99
$0.00
Unit price
per
Squeegee, conqueror, felt squeegee, 2 plastic scrapers, 10 stainless steel blades & 10 plastic blades, 9mm retractable utility knife with 10 blades, contour , block squeegee.

Window tinting, vinyl film, wall decals, poster, wallpaper installation, wallpaper smoothing, all types of paint protection film, decals, solar film, wrap film

Made of high-quality plastic, rubber and stainless steel, but is lightweight and portable

Scraper designed for better performance, greater control and strength, making scraping faster and easier.

Blades, economical yet durable, sharp yet flexible, easily removing decals yet surface-friendly, easily replaced.
---